HTCustom CUSTEL & Shadowmite Collaboration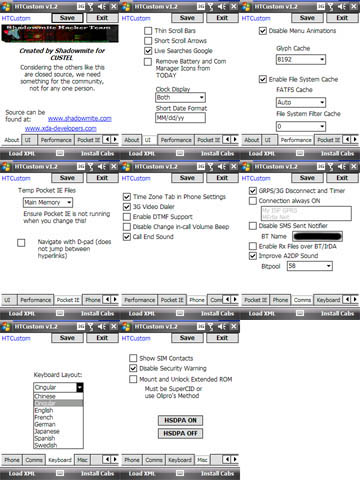 Code: Select all
Whats Good?
- Thin Scroll Bars
- Short Scroll Arrows
- Live Searches Via Google
- Remove battery/comm manager from tray
- Clock Display (clock, date, nothing, both, battery)
- Enable Time Zones
- 3g video dialer
- enable dtmf support
- disable in call volume beep
- gprs/3g disconnect/timer
- connection always on
- disable sms sent notifier
- change bt name
- transfer files via bt/irda
- improve a2dp sound
- Disable menu animations
- modify glyphcache
- enable file system cache
- modify FATFS & file system filter cache
- pie card cache device/sd
- navigate pie w/ dpad
- Hermes Keypad Layout
- Show/Hide Sim contacts
- Disable Security warning
- Mount Ext Rom
- enable/disable hsdpa
- xml/provxml loader
- cab loader

Version 1.8:
Fixed a bug to now support bepe's newer roms for trinity
Version 1.7:
Fixed the A2DP enhancements to allow the old method, and the new method. If set to usejointstereo, set bitpool to none and the samplerate will be set!
Version 1.6:
Now works on Trinity as well
Version 1.5:
Sorted the cab directory before launching them...
Version 1.4:
Fix the Time/Date/Both/Battery option to work correctly for battery.
Version 1.3:
Added version to about screen. Also fixed the A2DP fix to change maxsupportedbitpool also. Lastly added 3 time formats to choose from.
Version 1.2:
Fixes the last digit of the short date tag on the taskbar from falling off and allows you to create your own format if desired. If you don't find the date is all fitting, add another space to the end of the date textbox!
Version 1.1:
Added the automated CAB loader stuff and some other fixes
Source and more info can be found at: svn://
www.shadowmite.com/shadowmite
And more info:
http://shadowmite.com/wiki/index.php/HTCustom